With iOS 7, Apple included a standard way for iOS devices to use third-party game controller.  Developers can now build better games without worrying about awful touchscreen control schemes. This is made possible with Apple's MFI (Made For iPhone, iPod and iPad) APIs announced at WWDC 2013. This makes MOGA's controller the first official(blessed by Apple's MFI) iPhone controller and Logitech's controller the second of the pioneers.
The Android platform for example, has a lot of controllers but letting those controllers work with games has always been a matter between game developers and the controller hardware manufacturers. Of course this means that fragmentation doesn't make it easy for controller manufacturers. It took a long time for MOGA and similar companies to build up a strong library of games that work well, but now, it's a pretty good experience.
The pioneer controllers retail $100 each, which makes playing games on your iPhone somewhat of an expensive hobby. First up is MOGA's Ace Power, instead of the usual retractable arm that holds the phone just above the controller, the MOGA Ace Power splits in half and clamps the phone in between the two sections. The controller connects to the phone via Lightning connector rather than Bluetooth.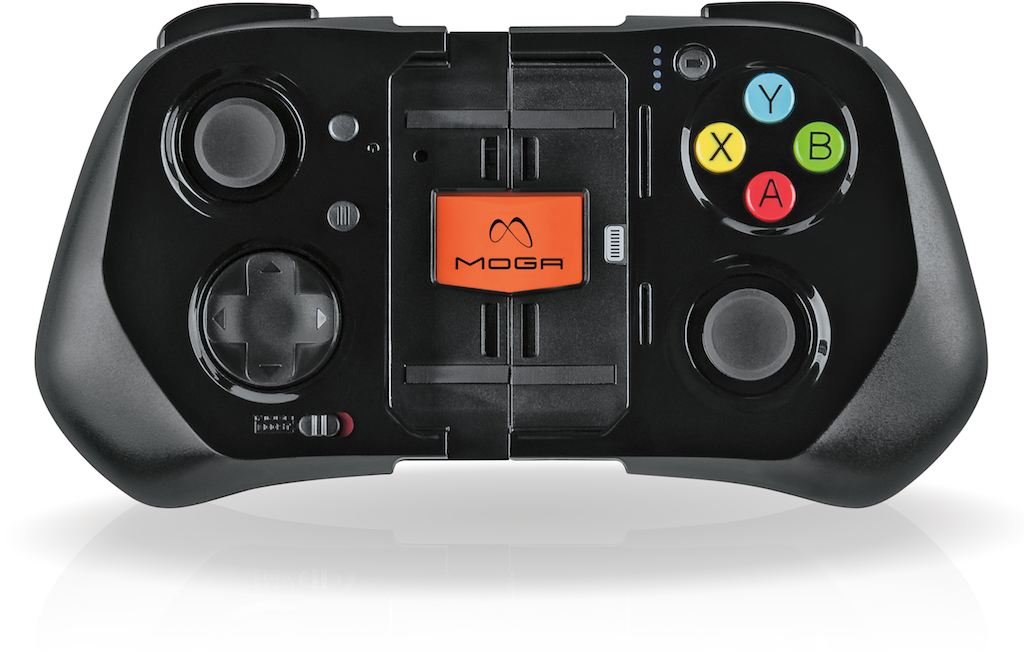 Touch Arcade has a hands-on report detailing the device, the report shows that they are unimpressed by MOGA's new flagship controller.
The hollow feeling of the MOGA Ace Power, the clicky buttons, how little it weighs, the texture of the plastic and the loose rattle of the sliding mechanism when it's not fully extended with an iPhone or iPod touch inside all work against the device feeling like a $99 piece of kit.

However, with surprise comes disappointment, and the main source of that disappointment is how incredibly obvious to us that all of the developers out there releasing updates to add iOS 7 controller support are doing so without actually testing on a controller. For instance, Dead Trigger 2 [Free] comes with default sensitivity settings that were so high there's no way any human could play that way. Similarly,LEGO Lord of the Rings [$4.99] has controller support, but you can only move using the D-Pad, not the analog stick. Strange little inconsistencies like that are everywhere, and I've yet to find a game that recognizes analog button presses.
The MOGA Ace Power has large potential, future iOS controllers will follow it's layout and much like every new device it can only get better from here.
Logitech's controller is called PowerShell, a slightly wider competitor to MOGA's Ace Power that retails at $100. This controller also connects via Lightning port. Just to be clear both the Ace Power and the PowerShell are for non-iPad iOS7 devices. Analog sticks are absent on the PowerShell and all the buttons are analog. Similarly unless you have very deep pockets, throwing the nearly eight-inch PowerShell into your pocket might be a daunting task.
That said hands-on reports at TechRadar and SlashGear show that the PowerShell is a much sturdier product in comparison to the Ace Power. However in practice most the same problems that affect MOGA's Ace Power also affect the PowerShell, and since it's been barely a week I'm pretty sure that nothing has changed with Apple's MFI APIs and Lightning software support. The keyword here is "potential".
So what can you play with these controllers, MOGA and Logitech share a list of 300+ titles and still growing. Dead Trigger 2, LEGO Lord of the Rings and The Walking Dead are popular games out now with MFI controller support. Limbo, Terraria and The Cave are coming out soon and major publishers are bringing some of their hit franchises to the scene. Eidos' Deus Ex: The Fall, Ubisoft's Trials Frontier and Electronic Arts' Dead Space are all slated for 2014. There are also old hits ranging from Pac-Man to Grand Theft Auto: Vice City. 
iOS has grown as a gaming platform, more people own iOS devices than Xbox consoles now, it's a good time to own an iOS device.
Tags : apple, gaming, ios 7, logitech, mobile, mobile gaming, moga