BlackBerry Finally Resumes BBM Rollout On Android And iOS[DOWNLOAD]
BlackBerry has sent an official email to Beta testers and people who signed up to be notified when multi-platform BBM becomes available. The email was titled "BBM for Android and iPhone is here!" and explains that the rollout has resumed and there is a line-up to start using the app. This comes after months of delay and a false start last month.
To download BBM for Android and iOS, visit BBM.com from your phone and follow the instructions. The website also allows you invite your Facebook, Twitter, LinkedIn and friends in your email contacts to use BBM.
For iOS users, it might take a while for BBM to show up in App Store so don't fret, you'll eventually get it.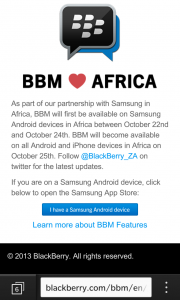 If you're reading this in Africa, BBM will first be available to Samsung devices between October 22nd and October 24th. By the 25th, BBM will be available for all Android and iPhone users.
We'll be posting a review of the app as soon as we lay our hands on it. If you've already got it, tell us what you think in the comments.