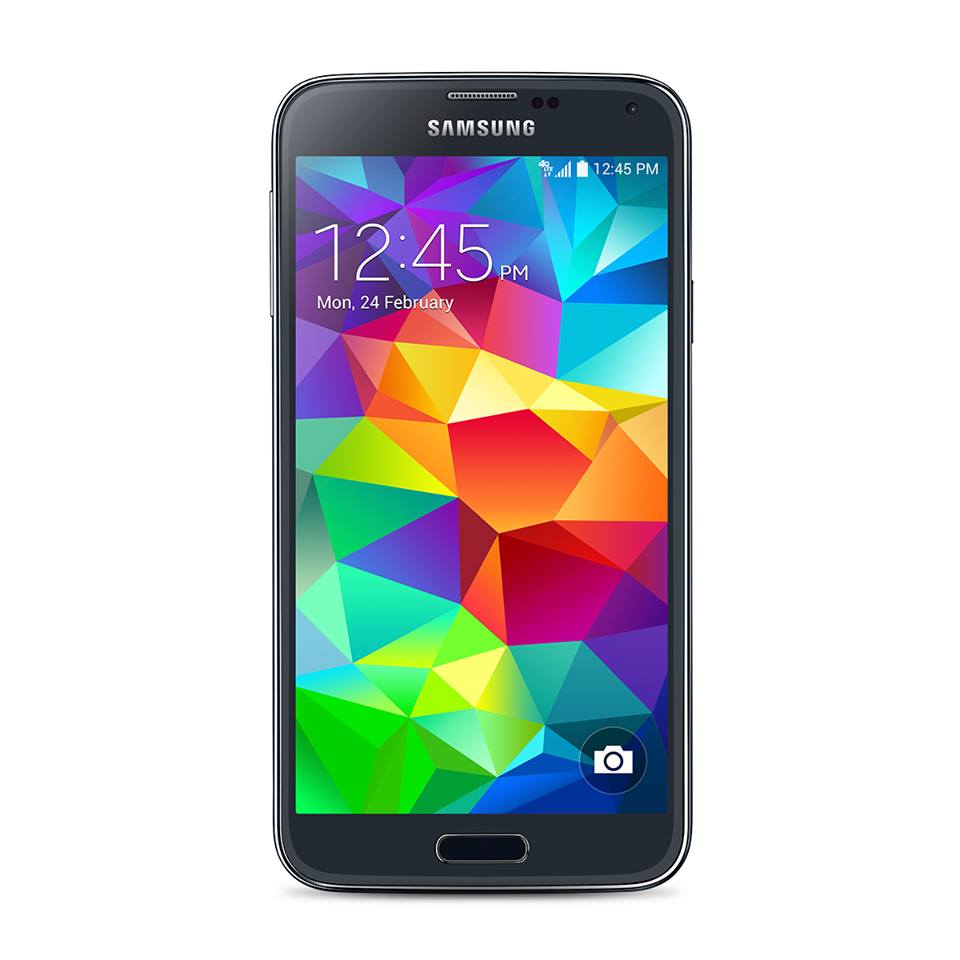 Samsung unveiled the Galaxy S5 dubbed  'The Next Big Thing' at their Samsung Unpacked Event at Mobile World Congress yesterday. The Galaxy S5 is the successor of the Galaxy S4 and it improves upon its predecessor in almost every aspect.
The Galaxy S5, much like its predecessor, will launch with a 5.1 inch, 1080p display with a resolution of 1920 x 1080 pixels, just .1 inches bigger than the S4. It also comes packed with a 2.5 GHz quad-core Qualcomm Snapdragon processor and 2GB of RAM. Internal memory options are 16GB and 32GB with space for additional memory up to 128GB.
Samsung Galaxy S5 users will get the latest version of Android – Android 4.4.2 KitKat as well as a toned-down TouchWiz UI.
The S5′s main camera is 16 megapixels with HDR features and selective focus while its secondary camera is a wide-angle 2 megapixels camera and capable of taking pictures at a resolution of 1920 x 1080 pixels. Connection options on the Galaxy S5 include WiFi, LTE, Bluetooth 4.0, NFC and Infrared remote. Samsung has included a download booster – allowing you download with WiFi and LTE at the same time.
Samsung boasts that the phone will be water and dust proof as well supposedly making it more usable in most weather conditions. The phone also comes with a power-saver mode built into the operating system that helps users conserve battery power by shutting down services that drain power such as LTE and brightness.
Some of the more notable and eye-catching features of the S5 are the fingerprint scanner, which like Apple's iPhone 5S offering, offers an extra level of security for the phone. The Galaxy S5 also comes packed with a heart rate monitor built into the back of the phone. The camera also got a bit of an improvement with a bump up to 16 megapixels from 13 megapixels on the previous offering, the camera will also have the ability to record 4K content.
Its battery is a large 2800 mAH battery. Samsung hasn't said anything about batter life however.
The Galaxy S5 is still very similar to its predecessor in every other respect. It still maintains the TouchWiz UI  that most have become familiar with and some added visual improvements to it. The form factor of the phone remains generally the same as well. The Galaxy S5 will be available worldwide on April 11.
So, are you impressed by the Galaxy S5? Or do you think it does not improve much over its predecessor. Let us know your thoughts below.
Tags : android, Android 4.4, Android 4.4.2, Android Kitkat, Galaxy, galaxy s5, s5, Samsung, Samsung Galaxy S5