Apple Unveils The Next Generation Mac Pro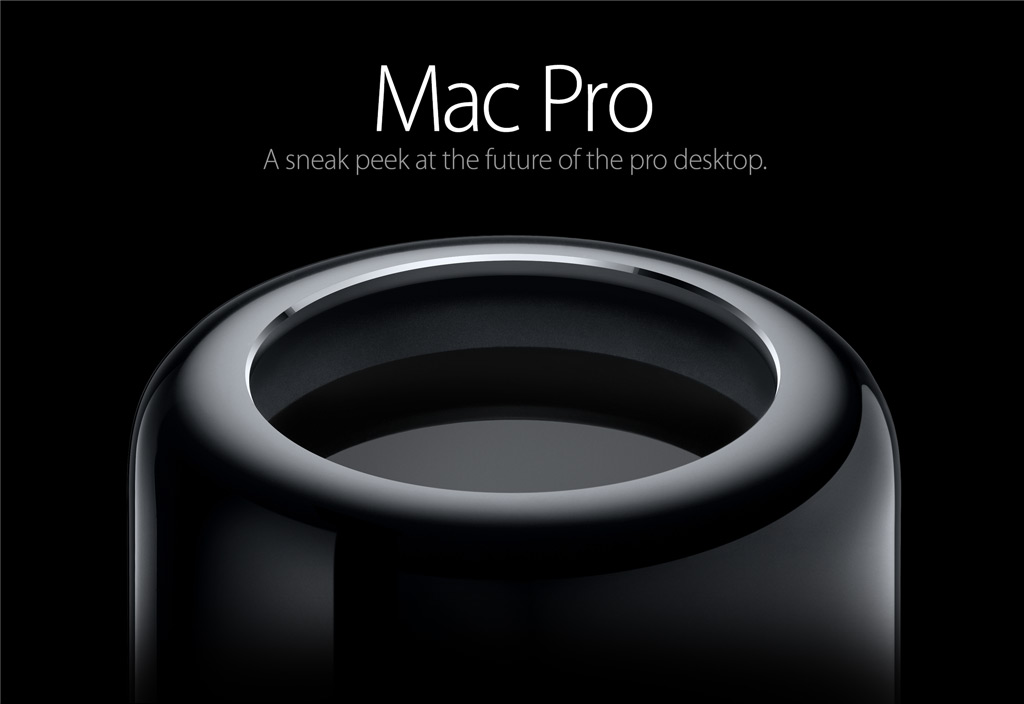 Apple, yesterday at its WWDC event showed us alongside its latest iOS7, the successor to the MacPro line. The new machine  took a bold new redesign and boasts some very impressive specs under the hood.
The design has morphed from a rectangular silver tower to a shiny 9inch black cylindrical tower. It has a motion sensor so when it is turned to reveal the ports at the back, the ports automatically light up for visibility.
Engineered around workstation graphics with dual GPUs, PCI Express-based flash storage, high-performance Thunderbolt 2, new-generation Xeon processors, ultrafast memory, and support for 4K video, the new Mac Pro delivers state-of-the-art performance across the board.
The new Mac Pro is said to be upto 2 times faster than the previous generation packing the new-generation Intel Xeon E5 chipset. With configurations offering up to 12 cores of processing power, up to 40GB/s of PCI Express gen 3 bandwidth, and 256-bit-wide floating-point instructions,
It includes a four-channel DDR3 memory controller running at 1866MHz. It delivers up to 60GB/s of memory bandwidth up from the current 30GB/s the current line offers, which means you can fly through even the most compute-intensive tasks in no time. And since it's ECC memory, your render job, video export, or simulation won't be stopped by transient memory errors.
Its features a state-of-the-art AMD FirePro workstation-class GPU with up to 6GB of dedicated VRAM — it features two of them. With all that power, you'll be able to do things like seamlessly edit full-resolution 4K video while simultaneously rendering effects in the background — and still have enough power to connect up to three high-resolution 4K displays. It packs upto 7 teraflops of computing power compared to the 2.7 teraflops.
No exact storage size was given aside from the type of storage that will be used. It will come with the next-generation PCI Express flash storage which is up to 2.5 times faster than the fastest SATA-based solid-state drive and up to 10 times faster than a 7200-rpm SATA hard drive.
Other features include a unified thermal core for maximum airflow from the center and out through the top of the machine. six Thunderbolt 2/Firewire ports which is 2 times as fast with 20Gb/s of bandwidth to each external device. four USB 3 ports, two Gigabit Ethernet ports and a HDMi port.
The Mac Pro was unveiled as a sneak peak and is said to be coming later this year without an actual date. What do you think about this beastly desktop. Leave you comments below.