In the past year console gaming has found new competition in mobile gaming; we saw more powerful devices, added integrated support for developers and the major publishers are starting to make a commitment to providing fun things for you to play on your mobile power houses. We even saw some very innovative ways that manufacturers and developers have tried to cross the boundaries platforms and merge gaming audiences. Yesterday Valve announced one such way, thirteen such ways that they are bringing PC gaming to the living room and at the same time catering to an enthusiast audience.
Let's now take a look at Valves Steam Machines
A Steam What? A Steam Machine is a PC gaming rig that runs Valves Linux-based SteamOS.

What is SteamOS? SteamOS is Valve's attempt at bringing PC gaming to the living room, its aimed at Steam Machine manufacturers and livng room PCs. It will be availabe to download and install, completely free later this year.
The Steam Machines are below and sorted in order of which will have the greatest impact on your pocket.
Falcon Northwest, Tiki
This beautiful box starts at $1,799 and goes as high as $6,000. This is because of its range of possible components that will be available at launch. Memory ranges from 8GB to 16GB and storage goes as high as 6TB. The Tiki has a stone base, which is an elegant touch as well as an efficient one as it keeps the tall tower stable.
Digital Storm, Bolt II
Digital Storm's Bolt II runs both SteamOS and Windows which makes this a very good cross audience PC since the more niche games that aren't on Steam will run on its Windows side.  With the upgradable machine, Digital Storm is "taking aim at the high-end of the market, targeting consumers that demand the best possible gaming experience and who are looking for a PC capable of playing any title on their new 4K display." Bolt II starts at $1,899 and boasts a 240mm liquid cooling system. Available from February.
Webhallen, Steam Machine
Webhallen's Steam Machine starts with an Intel Core i7 CPU,  NVIDIA GTX 780 GPU, 16GB and a 1TB Solid State Drive, all for a $1,499 starting price. Available later this year.
Alternate, Steam Machine
Also sporting an all too familiar boxy chassis, Alternate's Steam Machine will set you back about $1,339. For that price you'll get an Intel Core i5 4570 processor, and a Gigabyte GTX 760 handling the GPU work. You'll also get 16GB RAM and 1TB SSHD storage. At this point we can't you'll see it later in 2014 or earlier, we are only sure that you will.
Scan, NC10 
This sleek-looking machine is world's apart from its competition in terms of design. The rig includes a 2.4GHz Intel Core i3 4000M, an Nvidia GeForce GTX 765M, 8GB of memory and 500GB HDD all smartly cased inside its attractive brushed aluminum housing. It will be available later this year for $1,090.
Materiel.net, Steam Machine
Like most of the others, the date this boxy machine will hit the shelves is unknown other than the fact that it will be this year. It comes equipped with an Intel Core i5 4440 CPU and graphics will be powered by a MSI GeForce GTX 760 OC. The machine will have 8GB of RAM, and storage will be 8GB plus 1TB SSHD. Avalaible for $1,098.
CyberPowerPC, Steam Machine(s)
CyberPowerPC has two Steam Machine models called; "Steam Machine A" and Steam Machine I". Both are highly customizable rigs, that come with the same base components; 500GB hard drives, 8GB DDR3 memory, and mITX motherboards with support for Bluetooth, Wi-Fi, and USB 3.0. They will both run the Linux-based Steam OS and come equipped with the Valve-made Steam Controller designed for playing PC games in the living room. The two models diverge in pricing, processors and video cards. The  $499 Steam Machine A ships with a 3.9 GHz AMD A6-6400K and 2GB AMD Radeon R9 270, the other $699 model; Steam Machine I features a 3.5 GHz Intel Core i3-4330 and 2GB NVIDIA GeForce GTX 760. These will be available in the second half of 2014.
Zotac, Steam Machine
We are probably the same thing; you could tell your friends that's your new wifi router and none would be the wiser. Details about its  Intel processor, its Nvidia GeForce GTX, and its RAM and storage have yet to be revealed. Of course you'll see it this year, Zotac just hasn't said when.
iBuyPower, SBX
There aren't many juicy details on the specifications of this rig. We know it will be out later in 2014 and will retail for $499. It will feature AMD and Intel processor options, a 2GB AMD R9 270. No word on memory or storage at this time.
Alienware, Steam Machine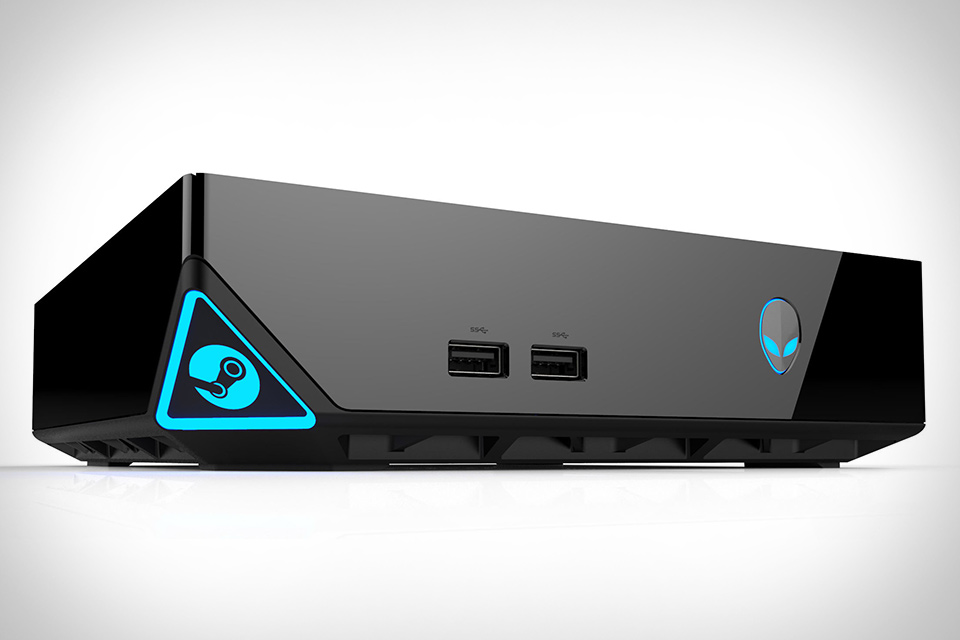 Given that this is one the most talked about Steam Machine of all the thirteen, it was disappointing when Alienware did not disclose the details of its components. There will be an Intel processor and an Nvidia GPU, however that gives us as much to be excited about as its unknown release date in 2014. It will sport two USB 3.0 ports and like the Xbox One HDMI In and Out ports and unlike the Xbox One we don't know exactly what Alienware plans to do with them. Pricing details are also unknown.
Origin PC, Chronos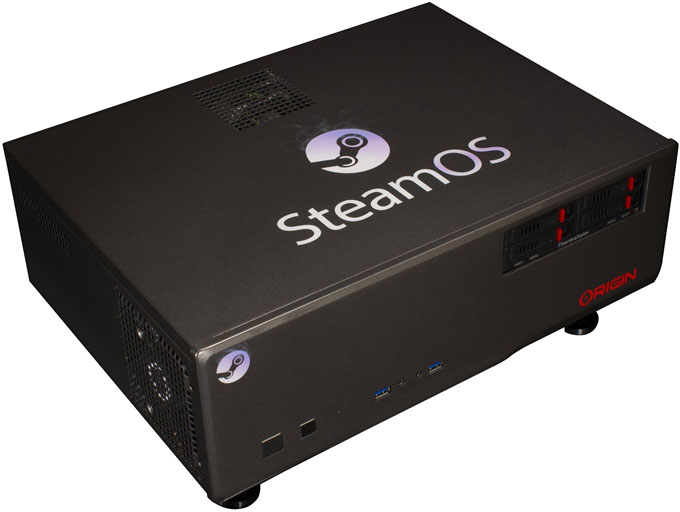 The Chronos Steam Machine from Origin PC is an interesting rig, one reason would be because it offer support for up to dual Nvidia SLE GeForce GTX Titan GPUs, 14TBs of storage, and a liquid CPU cooling system. The rig will be built as it's ordered so off the shelf configurations may be rare. Another interesting bit is that it will have dual-boot options to let users dual-boot SteamOS and Windows 8 or Windows 7. Pricing and availability or unknown at this time.
Next, Spa
We don't get pricing or availability but we do get specs and here they are; an Intel i5 processor, along with an NVIDIA GTX 760 GPU, 8GB of RAM and 1TB of storage.
Gigabyte, Brix Pro
This is by far the smallest of the pack, its design seems to appeal to those who don't want a big machine taking up too much space in their living room and thus leaving things minimal. The Brix Pro will feature an Intel Core i7-4770R processor, an Intel Iris Pro 5200 chipset for handling graphics duties, 8GB of RAM, and 1TB of storage. Gigabyte has not released details of how much it will cost and when we can pay that cost to get it.
Which of these is right for you?
Tags : gaming, PC, Steam, Steam Machine, valve