Ushahidi's BRCK Wants To Be Your Backup Generator For The Internet

You know those times when you have to watch YouTube videos and tweet work through the night. Then our friends at NEPA decide to do what they know best and your router goes off so you no longer have WiFi.
Enter BRCK. BRCK is the best way to support your internet connection. Especially when you don't have electricity.
BRCK allows you connect to the internet in anyway it can, hopping from one network to another and at the same time create a wireless hotspot for multiple devices. You can use BRCK while it's plugged in to a power source or run it on its battery power. The battery lasts 8 hours.
Ushahidi says BRCK works when the internet goes down. We're not quite sure what it is but BRCK is portable and easy to setup. It's WiFi hotspot feature allows it support up to 20 devices and can cover multiple rooms.
BRCK can connect to WiFi, Ethernet, 3G or 4G mobile networks. All you have to do is plug in your SIM card, connect to a wired or wireless network and BRCK will get online.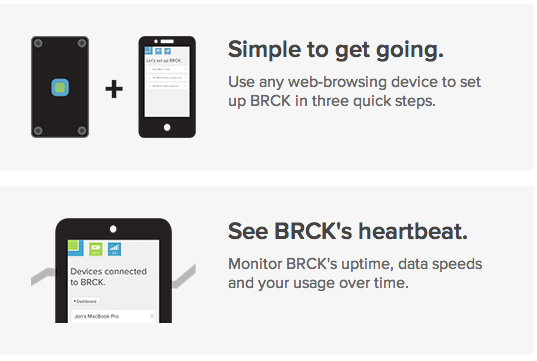 The device runs on its own software, operating with the BRCK Cloud – A website that you can access to check how connections and electricity are performing on BRCK. You can also manage alers and applications remotely from your phone or computer and gather data from attached devices.
To get funding to kick this project off and support it, Ushahidi has put up a KickStarter page for Brick. Donations range from $10 to $10,000 with different rewards attached. This project needs $125,000 to begin and has raised over $55,000 in the first three days of its Kickstarter campaign.
Ushahidi is a Kenyan, non-profit technology company that builds open source software to democratize information. The crowdsourced mapping platform Ushahidi built during the Kenyan post-election violence in 2008 has also been used for blizzards and hurricanes in the US as well as during earthquakes in Haiti and Japan. Ushahidi's platform is also used in election monitoring around the world.
Here's a video by members of the Ushahidi team explaining BRCK
BRCK is definitely a necessity for a lot of Internet users in African countries. Epileptic power supply makes working with the internet an extra problem. This device will solve that problem until we can get stable power supply.
If you're interested in donating to this cause, hit this KickStarter page.