HP Enters Chromebook Market With HP Pavilion 14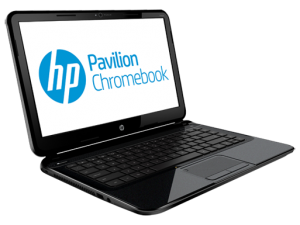 HP is foraying into the Chromebook market, joining Samsung and, Acer. It weighs in at 3.96 lbs and a 14 inch display, making it the largest and heaviest Chromebook available today.
It comes packaged with an Intel Celeron processor and 2GB of RAM, this makes it faster than Samsung's offering which comes with an Exynos processor. You also get 3 USB 2.0 ports, an SD card reader (which Samsung's offering does not include), an ethernet jack and 16GB built in flash memory. All these come with a promised battery life of 4 hours and 15 minutes. The Chromebook is available at the HP Direct store for $329.99.
What do you think about HP's entry into the Chromebook market? Will you be getting one for yourself? Let us know your thoughts in the comments below.
Source: HP, Google Chrome Blog