Gidilounge – the popular Nigerian music player, has been largely enjoyed on the web and for some time on Android now. Gidilounge has now widened their reach to include iPhone users with their recently launched Gidilounge iOS app. We at Technesstivity decided to give you a review of the app.
The Gidilounge app is free on the Apple App Store, it is not a large application, so it downloads fairly quickly and installs on the iPhone. When you launch the application, you are presented with a login page in which you can login with your existing credentials or login using Facebook – however, the Facebook option does not seem to be functional at the moment. The option to sign up as a new user is also available. A drawback of the login page is that when entering your password, it is displayed in plain text which does not seem very safe, but I assume this was done with ease for the user in mind.
After logging in to the app, a page titled 'Global' is displayed with three categories, 'Trending', 'Weekly Top 10′ and 'Indie'. You can select any of these categories and listen to songs from them. Once you tap on a song, you get the options to 'Play', 'Star', 'Add to Playlist', 'Share on Facebook' and 'Share on Twitter' which are all denoted by icons.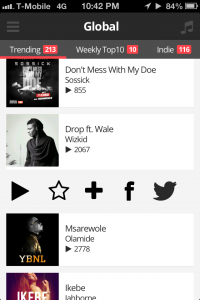 There is also a left navigation bar that allows you switch between different Gplayer settings or switch to the Radio feature, and a Social option to select from. In the left navigation bar, you can also search for songs, playlists or users using the Search feature. The app also has a notification that comes up every few days when there is a new song release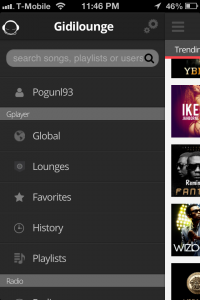 My overall experience with the app was not so good. I feel like there are a lot of issues that need to be ironed out. Some examples being the aforementioned Facebook login issue, when listening to tracks in the Gplayer, they cannot be fast forwarded or rewound, the 'Settings' icon in the left side navigation bar does not work and a few other minor issues. Other than that, it does a good job at playing music and helping you discover new Nigerian music
In conclusion, I believe this app would most likely be a great addition for already existing Gidilounge users. However, I think that because of the drawbacks the app currently has, it would not excel too well at swaying new users its way.