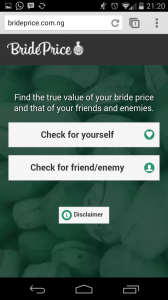 Are you a young, Nigerian woman nearing marriageable age? Do you sometimes wonder what your bride price could do? Not to worry, there's a app website for that.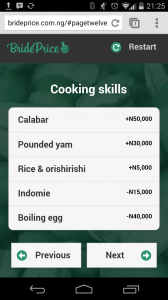 Brideprice.com.ng consults the oracle and calculates your bride price after you answer a few questions. Questions range from how tall you are to your cooking skills. Ha.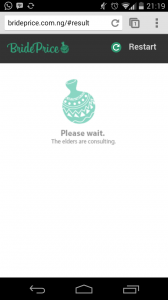 After checking your Bride Price, you're encouraged to share it on Facebook or Twitter so your future husband can see. And runaway.
If you're not of marriageable age and your friend is, you can enter their Twitter handle and answer questions on their behalf. Checkout the website and tell us how much your bride price is in the comments.
UPDATE: The oracle tells us that the company behind this is Anakle – a design and coding company in Lagos. The oracle cannot be wrong.
UPDATE 2: Some people have vexed at the idea of Bride prices in the first place. They say it objectifies women and supports misogyny. There's now a petition to bring down the website. If you're interested, there's a blog post explaining the roots of dowries and bride prices and how they show the value of women in society.
Tags : Bride Price app, Bride Price Website, Check your bride price