Video Games Eating Up Brain Cells?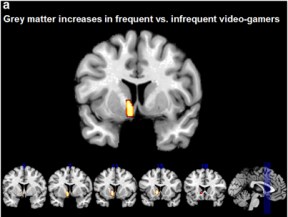 An international research team recently published a study that shows a positive correlation between the playing of video games and the volume of grey matter in the brain. The study which was conducted, using 154 fourteen year-old gamers, showed that the ventral striatum was larger in gamers who play more often.  The ventral striatum is a part of the dopamine system (Dopamine is a neurotransmitter released in the brain when we perform joyful activities.)
Could this report just be an attempt to reduce the amount of time kids spend on playing video games rather than studying or doing homework. Well, we doubt any matter involving the brain and its capabilities of addiction would be spoken of  frivolously. And With Modern Warfare 3 just coming out,  This report will most undoubtedly raise concerns among parents.
So Is it safe to say now that video games are bad? Well, not exactly! So don't drop your PS3 pads just yet (PS3 >Xbox – but that's just me) as the study only showed a correlation and not necessarily a causality.
Health professionals and the gaming industry are yet to comment on this story however. Perhaps, the brains of 14 year old gamers aren't as important as Kim Kardashian's daily workout routine?
Only time will tell.