Android 4.0: What's New In Ice Cream Sandwich?
Google unveiled Ice Cream Sandwich: the latest version of Android at Samsung's unpacked event last week. Ice Cream Sandwich is dubbed Android 4.0 and basically solves the problem with Android apps scaling on Tablets and Smartphones. Samsung and Google's Galaxy Nexus is currently the only phone running Ice Cream Sandwich. HTC says the update will be coming to its phones soon. So what's new in Android 4.0?
New UI
A major part of every Android update is the UI. Ice Cream Sandwich looks more like Honeycomb than Gingerbread and comes with a new Roboto typeface: optimized for high-resolution screens. The Galaxy Nexus has no physical buttons so ICS has virtual buttons in the System Bar that lets you navigate Back, Home and recent Apps. The System Bar and virtual buttons are present across all apps and can be minized for full-screen viewing.
Home Screen folders
New home screen folders can be created so you can group your apps and shortcuts as you wish. For small screen devices, the home screen will include a favorites tray that'll act like the home screen folders.
Lock screen now has actions
The new lock screen allows you switch to camera or pull down the notifications window while your device is locked. You can also manage music and see album art while listening to music.
Voice Input
Android 4.0 has a new voice input engine that allows the microphone to be always on. You no  longer have to hold down the microphone icon while you speak. Voice input allows you  dictate text while sending messages. Words with errors are underlined as you dictate so you  can quickly replace them after from a list of suggestions.
 Network Data Control
 Smartphones draw a lot of data. For users with tiered data plans, Android 4.0 allows you set  warning levels or limits of data usage on Wi-Fi or mobile data. You can also view data usage  on each app via the Settings app.
People App
A new People app aggregates information about your contacts from social networks and also contains their contact information. There's a new button to add/connect social networks.
Camera App with more abilities
The camera app now has decreased shot-to-shot speed to help you take precise images. You can also zoom in while recording videos as you want and take snapshots while recording video. Face detection locates faces and sets focus.
Gallery App with Photo Editor
The gallery app makes photo management easy by sorting albums by time, location,  people and tags. Gallery comes with a photo editor so you can crop, rotate, set levels,  remove red eyes and add effects to your photos. You can also select an image or  images to share instantly via email, SMS, bluetooth, social networks or other apps.
Sharing screenshots
You can now take screenshots using buttons specified for your device and can be shared via the Gallery app.
Browser changes
Apart from Google Chrome sync, Android's browser now lets you choose whether you want a mobile or desktop version for web pages. You can also set different preferences for each tab. For offline reading, you can save copies of web pages.
Totally New Features
Android Beam
We saw the launch of BlackBerry Tag last week. Well, Android Beam is a similar service for sharing content across two NFC enabled android-running devices. It lets you share apps, contacts, music, any file generally. Android Beam doesn't need you to open an app or pair with devices. All you have to do is touch one Android phone to another and tap to send. Android Beam also has an API so third-party apps can be built to add other types of interactions not included in the native build.
Face Unlock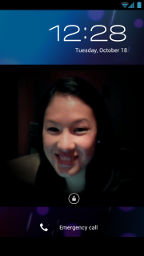 Facial recognition has been added to Ice Cream Sandwich, with the ability to unlock your Android 4.0 device with your face. All you have to do is hold your device in front of your face, and it'll unlock.
All these features have surely supercharged Android. If you've tried out Ice cream Sandwich on your device, what do you think? Please leave us a comment below.
Related posts: