iPhone 5S Versus iPhone 5C, Which Should You Buy?
It's no longer news that Apple has added 2 new phones to its iPhone lineup – the iPhone 5C and iPhone 5S. In this post, we'll go through the major differences between both phones. Hopefully, we help decide which phone is better for you.
Design
The iPhone 5C has an all new curved and plastic design that reminds us of Nokia's Lumia range. It's also available in 5 different colours – green, blue, yellow, pink, and white. The iPhone 5S retains the same metal design as the iPhone 5 but is available in silver, gold, and space gray.
Weight and Dimensions
The 5S is a couple of ounces lighter than the 5C. The 5S weighs 112 grams while the 5C weighs 132 grams. Of course, you won't notice the difference in weight until you hold both of them. The iPhone 5S is also the thinner of both phones at 7.6mm. The iPhone 5C has 8.97mm of thinness.
Processor
The iPhone 5S has an all new A7 processor with 64-bit. The 64 bit architecture allows it store more in its memory than any other phone on the planet. Great for gaming buffs. The 5S also features a special M7 motion processor. This processor tracks your motion without affecting the battery of your phone so much. If you're obsessed with your fitness and movement, you should get the 5S.
The iPhone 5C on the other hand has an A6 processor – the same processor as the iPhone 5. This isn't so great for hardcore gaming. If you're obsessed with fitness, this phone won't last long enough for you to track an entire day's worth of movement.
Operating System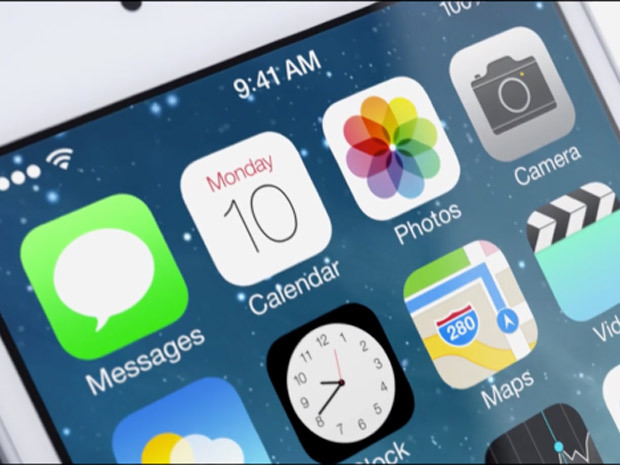 Both phones run Apple's new iOS 7. iOS 7 has a whole new interface, with new icons, a better notification bar and better options when switching between apps.
Fingerprint Identity
The iPhone 5S isn't the first phone to feature fingerprint recognition but it's the first to get it right. Fingerprint recognition allows you login to your phone, make payments and close other transactions with your fingerprint. An extra security layer on a phone isn't a big deal to us but if you'll rather lay your fingers on a phone instead of typing a regular password, you should go for the 5S.
Fingerprint recognition is lacking on the 5C. To protect your iPhone 5C, you'll need to enable a screen unlock password.
Display
The iPhone 5S and the iPhone 5C have the same display. The screens are 4-inch (diagonal) Retina displays with a resolution of 1136-by-640 pixels which gives them 326 pixels-per-inch.
iSight Camera
Apple has equipped the last 3 generations of iPhones with its iSight Camera. The iPhone 5S features an 8 megapixel camera with 1.5µ pixels. It features true tone flash which ensures the proper skin tone of a person is captured. It also features autofocus, face detection, panorama, auto image stabilisation and a burst mode. The 5S is the better camera for photography.
The iPhone 5C's camera is an 8 megapixel camera with LED flash. It also features autofocus, face detection and panorama but lacks auto image stabilisation and burst mode. The pictures from the 5C are just good enough.
Video Recording
Video Recording on the iPhone 5S is up to 1080p HD quality. It captures video at 30fps and allows you make use of its True Tone flash. It has an improved video stabilisation feature over the 5C and allows you record video in slow motion.
On the other hand the 5C also boasts videos of up to 1080p HD but lacks improved video stabilisation and a slow motion feature. The winner here is the iPhone 5S due to its advanced features.
Front Camera
Both phones have the same front camera and support the same features. They both allow you take 1.2 megapixel photos at a resolution of 1280 by 960. Video recording up to 720p HD video recording. There's also a mew backside illumination sensor.
Battery Life
Battery Life on both phones are the same. Apple says talk time is Up to 10 hours on 3G with a standby time of up to 250 hours. Internet use will make the battery last up to 8 hours on 3G, 10 hours on LTE and Wi-Fi. Video playback would last up to 10 hours as well. Audio playback on both devices can be up to 40 hours.
Pricing
The iPhone 5S is the more expensive option. It starts at $199 for the 16GB model on a contract while the iPhone 5C starts at $99 on contract for the 16GB option. If you'll like to buy the unlocked and contract free version, the iPhone 5S starts at $649 while the iPhone 5C starts at $549 for the 16GB version.
Which would you get?
If you're on a budget and you're not phased by fitness, slow motion video and hardcore gaming, the iPhone 5C is a strong suit. However, if you want to play graphic intensive games without them hanging, track your movements all day and make your videos look professional, you should go for the iPhone 5S.
Leave us a comment below and tell us whether you're getting the iPhone 5S or the iPhone 5C.