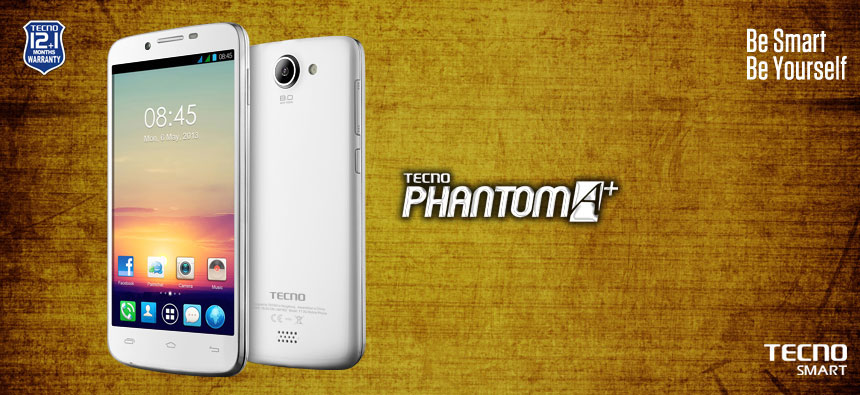 Tecno has decided they'll never stop amazing us with their Android phones. The Tecno Phantom A+ is a step up from the Tecno Phantom A F7.
We'll go right to the specifications of the Phantom A plus.
The Phantom A+ runs on Android 4.2 Jellybean and is powered by a 1.2GHz quad-core CPU. Remember the Phantom A, has a dual-core CPU of 1GHz. Internal memory stands at 4GB while an external memory card of 8GB is added in the box. It has a RAM of IGB. Yes, this Tecno is also dual SIM capable.
It retains the same form factor as the Phantom A with a 5-inch TFT display of resolution 720 x 1280 pixels.
On the camera side, it has an 8 megapixel rear camera with flash and a 1.2 megapixel front camera for video calling. The rear camera takes pictures at a resolution of 3264 x 2448 pixels. Connectivity options include 3G and EDGE, WiFi, a USB port, Bluetooth, GPS and an earphone slot.
Tecno is playing a Samsung from a few years back and hitting the market with as many midrange phones as they can. Samsung on the other hand, seems to be focusing on more expensive phones – giving room for brands like Tecno and Infinix.
Tags : android, Jelly Bean, Tecno, Tecno Phantom A, Tecno Phantom A plus