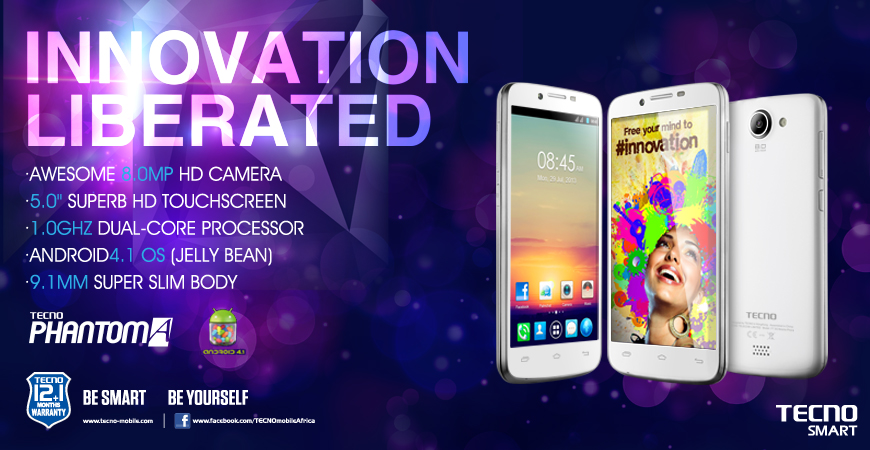 Tecno recently annoucned the Phantom A F7- the latest phone in its lineup of Android smartphones.
The Phantom A runs Android 4.1 Jelly Bean on a 1GHz dual-core CPU, 1GB of RAM and 4GB of internal memory. External memory up to 32GB can be added via a microSD card.
On the design, Tecno says it got French designers to work on this particular phone although you'll call it a Samsung Galaxy S3 if you didn't know. Available in Black and White, the Phantom A is 9.1mm thin and looks like it packs a lot of weight. It also has a 5.0 TFT screen with a resolution of 720 x 1280 pixels. Note that it's a TFT screen so it's not going to be as bright as the AMOLED screens you see on Samsung's phones.
Like all of the Tecno phones we've seen recently, the Phantom A F7 has dual sim cabapilities.
The smartphone packs an 8 megapixel front camera with flash, capable of shooting 30fps of video at 720p. It capture images at a resolution of 3264 x 2448 pixels. The front camera on the other hand is a disappointing 1.2 megapixel.
For connectivity, the Phantom A has WiFi, GPRS, EDGE, 3G, Bluetooth, a USB port and a 3.5mm earphone port.
The price  the Phantom A is currently around N34,000. For the specs, this phone packs, it's a great price.
What do you think about the specs of the Phantom A? Can it be a bestseller like its predecessors, the Tecno N3 and Tecno N7? Please leave a comment.
Tags : android, Jellybean, Tecno, Tecno Phantom A, Tecno Phantom F7