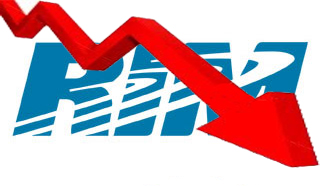 RIM the makers of the popular BlackBerry smartphones has been in the news of recent due to its lack of creativity which saw it relinquish its spot as top smartphone platform in the US. This lack of creativity has been blamed on the top-heavy structure of the company which sees Mike Lazaridis and Jim Balsillie serving as both the co-CEOs and also the co-Chairmen of the Waterloo-based tech giant.
In the past year, the once-great RIM has seen its share price falling by over 80% since 2008. A lot of RIM investors have clamoured for the company to sell -off its huge patent arsenal in order to unlock shareholder value for the company which has been in a tailspin of recent. RIM has been in a tailspin of recent with its below par iPad competitor it introduced – PlayBook.  RIM has been slow to stay ahead and increase its innovation in a smartphone market dominated by the iOS and Android platforms. Last month RIM acquired a significant chunk of Nortel's massive patent arsenal. Analysts and investors alike have proposed that RIM sold off its patents. Instead, the co-CEOs have been insensitive to their investors and RIM has been painstakingly slow in reading the market and bringing a game-changer.
It is now clear that the current route the company is going through is not favourable in the eyes of its investors. Lets hope that RIM does the right thing before it goes the way of Yahoo. Please leave your comments below.
Courtesy: TNW