BlackBerry Curve 9320 Review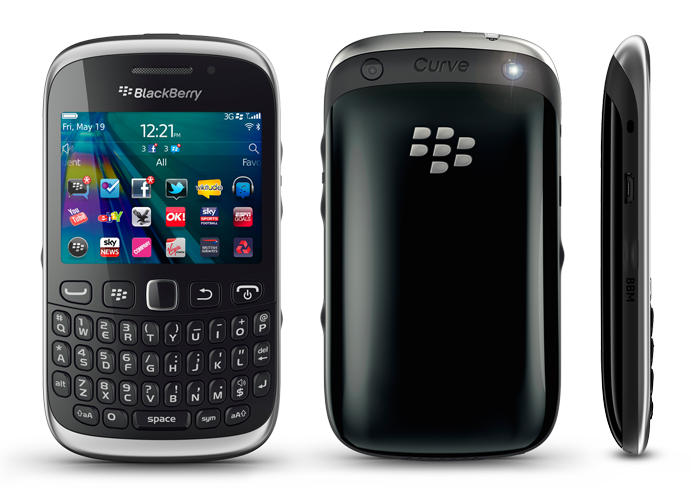 It's almost two weeks since I made the BlackBerry Curve 9320 my primary phone. Here's a review of the smartphone, split into parts so you can pick up whatever part interests you or read it as a whole. We'll start from the very beginning.
Unboxing and Setup
I had no problems unboxing the Curve 9320. It's placed in a small hole at the top of the box. The box comes with two charging ports that connect to a mini-USB charger, an earphone, a battery, a book with setup instructions and a CD if you prefer the digital.
My version of the device came with a 2GB microSD card and I've been informed not all versions come with a memory card.
After the regular SIM registration and BIS payments, setting up three email accounts, Twitter, Facebook, BlackBerry ID and BlackBerry Protect was a breeze.
Design and Handling
The Curve 9320 has more curves than any other curve before it and reminds me of the Nexus One. It feels great to hold and is light at 103 grams. At the top is an earphone port and a lock/unlock button. The left side has a dedicated BBM button at the bottom and a mini-USB port at the top. On the right side is another dedicated button at the bottom and volume and pause buttons at the top.
The keyboard definitely has more space between keys than Bold versions. Although I mistyped a couple of times due to my large fingers. If your fingers are always sweaty for touch screens, you'll have no problems with this keyboard.
Display
The TFT display works great in all lighting environments. It's absolutely perfect outdoors and prevents straining on the roads. It also works fine at night and in the dark.
OS 7.1
BlackBerry OS 7.1 is a large improvement from OS 6. I love how the notification centre drops down and allows you scan through what's important and what's not. I would love if it could be accessed from the top bar however.
Another upside to OS 7.1 is how numbers, links, emails and Twitter handles are integrated into contacts. You can easily click on a number, link or email address and add it to contacts.
The Contacts app is also great. Apart from allowing you add custom fields, I love how recent conversations between me and certain contacts show up at the bottom of a contact page. Absolutely brilliant. You can also add their Facebook and Twitter account so you can see the most recent updates from your friends.
Universal search is included via the search bar at the top of the home screen. It searches apps, files and browsing history as well as Facebook , Twitter updates and Bing.
Social Feeds
This is one of my favorite apps on OS 7.1. Social Feeds allow you view the most recent items from added social networks, as well as the most recent items from RSS feeds.
A couple of feeds come pre-installed but I'll love if I didn't have to click the "Read More" icon for feeds that are totally open.
Customisation
It was fun customising the convenience keys on the side, If you're not a heavy BBM user, you can configure the left button to work with a certain app, like Screen Grabber.
I also love how vibration and ring tones can be configured. BBM messages vibrate twice and Twitter messages vibrate once just as I selected in the Options.
You can also change font types, font sizes and display colours for certain apps. If you're into things looking as different as they can be, you'll definitely love 0S 7.1.
Network and Call Quality
The BlackBerry Curve 9320 supports EDGE and 3G networks and allows you switch between them when you wish. Call quality was brilliant as I had no problems hearing or speaking to people over any of the network profiles. However, the phone app seems to run forever.
On the data part, the Curve 9320′s data compression services are great and work well when service isn't perfect. You'll just have to wait a little longer to receive and send messages. Full 3G service on the other hand works brilliantly and fast.
WiFi, WiFi hotspot, GPS and Bluetooth
I had a few problems with the WiFi as it connected to some networks and not others. When used as a hotspot, WiFi works great and can power up to 5 devices. I experienced difficulties in using the Curve 9320 as a hotspot when network service was bad.
If you're a sports person, you can get sports apps from App World and try them out. I used SmartRunner when I ran and it worked fine with the GPS. I'll love if I could turn off GPS at my wish.
GPS also works fine with proximity apps like Foursquare and has a bit of problems finding locations on BlackBerry apps. It told me I was on Banana Island when I was in Lekki Phase 1.
Battery Life
Battery Life on the Curve 9320 is longer than previous models as it lasts over a day of music playback and 4 hours of video playback on its 1450mAh battery. When I switched to EDGE and used it continuoulsy, it lasted 4 hours and about 2 hours on 3G. 3G definitely sucks the life out of it.
Talk time is average at 7 hours.
Music and Video Playback
The speakers impressed me as they were louder than expected. You can store as much music as your memory card can take. The Music and Video apps are integrated with BBM so you can share what you're playing with friends. If you want to share now playing to Twitter, you can download BB Tweet Media.
BlackBerry Messenger and Email
This is by far, the king of all apps on the BlackBerry. You'll never understand why BlackBerry users are addicted to BBM until you try it. Messages are super compressed so they are sent and received fast under the worst network conditions. There's an upload file limit of 6MB.
It was fun emailing on the Curve 9320 with its physical keyboard. The keyboard app fixes spelling errors and offers you spelling options. When you type "Im" instead of "I'm" it automatically corrects it. It even turns the pronoun "i" into "I".
I added 3 email accounts to the email services by just entering the email address and password. Works smoothly without hitches.
Camera
It's 3.15 megapixel camera works perfectly outdoors during the day and in indoor areas where there is enough light. The camera app is a little slow to open up and has 11 scene modes for different environments. The camera app also integrates with GPS and Twitter so you can share pictures fast and include your location.
Video recording also works fine when there's light but there's a little blur in videos due to the camera quality. The camera shoots video at VGA with 640×480 pixels. Here are image and a video sample from the BlackBerry Curve 9320′s camera:
Apps
I was disappointed that I couldn't find Skype in App World although there are a lot of alternatives. My favorite apps – Foursquare, Evernote, Dropbox and the Nigerian Constitution App were available for download. When I downloaded apps, I noticed the device slowed down and sometimes had to be restarted.
Restarting takes almost another 5 minutes and that sucks.
Apps are placed into different categories. If you love playing games, this probably isn't the OS for you. I only played games once for all the time I used this device.
Final Thoughts
We're not sure of the price at which the BlackBerry Curve 9320 will be placed at when it eventually launches in Nigeria, but we know it's targeted at low-end BlackBerry users. If all you do is Email, make phone calls and Ping, you will have no problem with the battery life on this device.
My major frustrations were the absence of certain apps on App World and the fact that the phone hangs once I run more than 2 applications simultaneously. Of course if you're not a heavy app user you'll have no problems with this.
The BlackBerry Curve 9320 seems to crash a couple of times. One time it froze for almost an hour and I had to eject the Battery to bring it to life.
Otherwise this is a great device for texting, emailing and keeping up with your connections.