From December 20, TaxiPark Will Let You Book Lagos Cabs Online [WALKTHROUGH]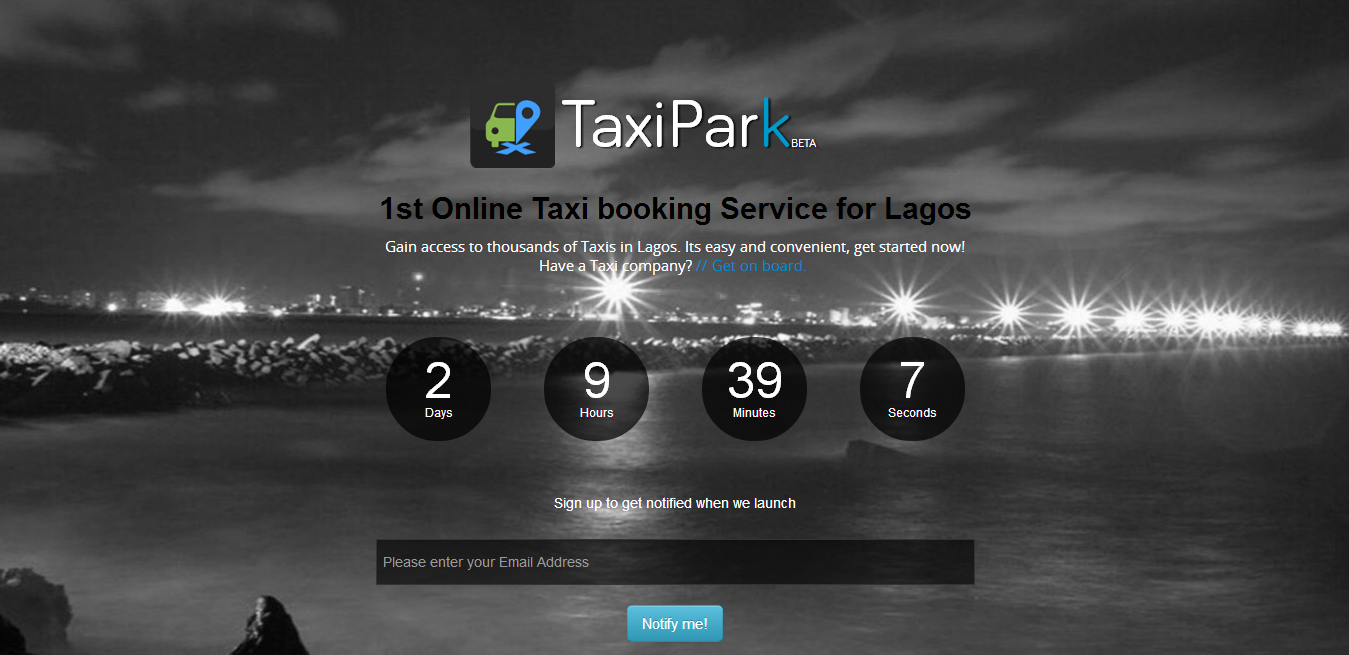 The first time we saw TaxiPark in March, it was a simple app that let you find cab providers within Lagos and call them. Interactive Shack  then added cab companies in Abuja and mapped directions if you needed. A BlackBerry app was also launched.
In this new iteration of TaxiPark, iShack will allow you do the ultimate task. You will finally be able to book a cab in Lagos via the internet from December 20th.
We've been given priority access and we'll take you through simple steps in booking your cab via TaxiPark when it launches. You can signup on TaxiPark's website to get a notification when the service launches.
From the landing page, TaxiPark asks for your phone number and email address.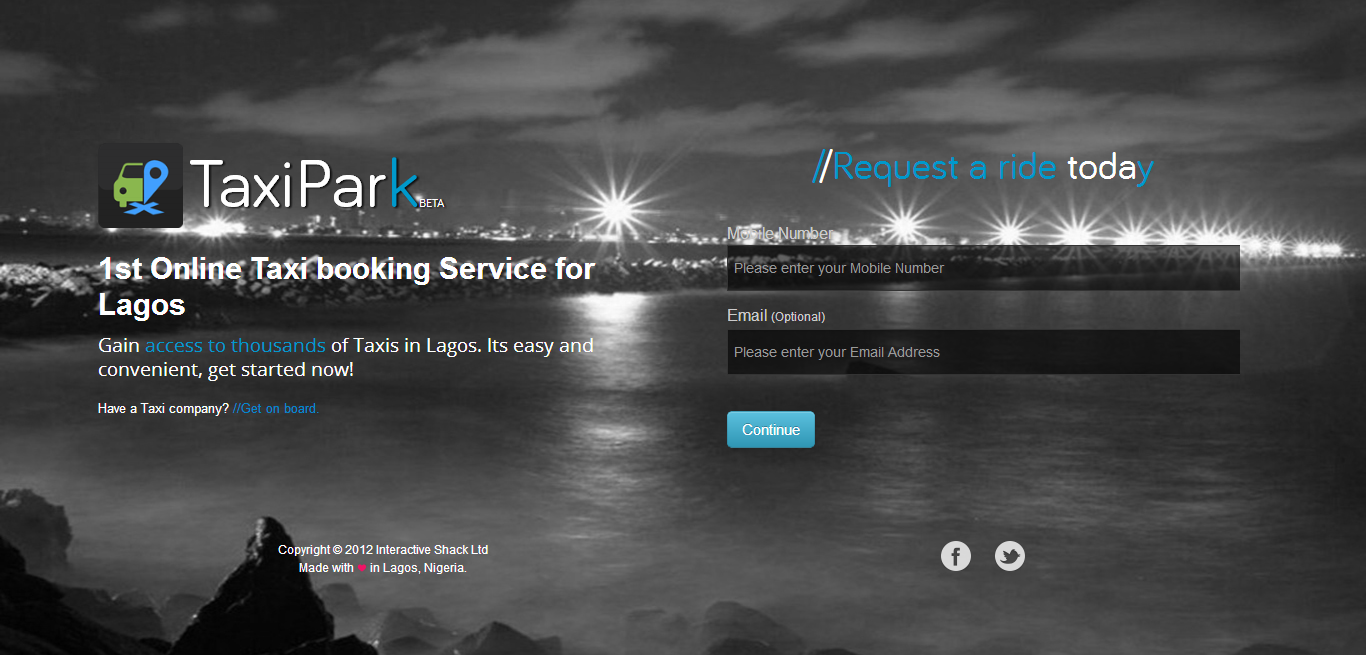 Hitting the continue button leads you to a page where you can allow TaxiPark find your location automatically or you can type your pickup location manually. You then select a drop-off location, pickup day and time and select a cab company. TaxiPark currently has only one option of Metro Taxi for Lagos but they're looking to add new companies soon. For return trips, you simply tick the button and hit "Book Ride"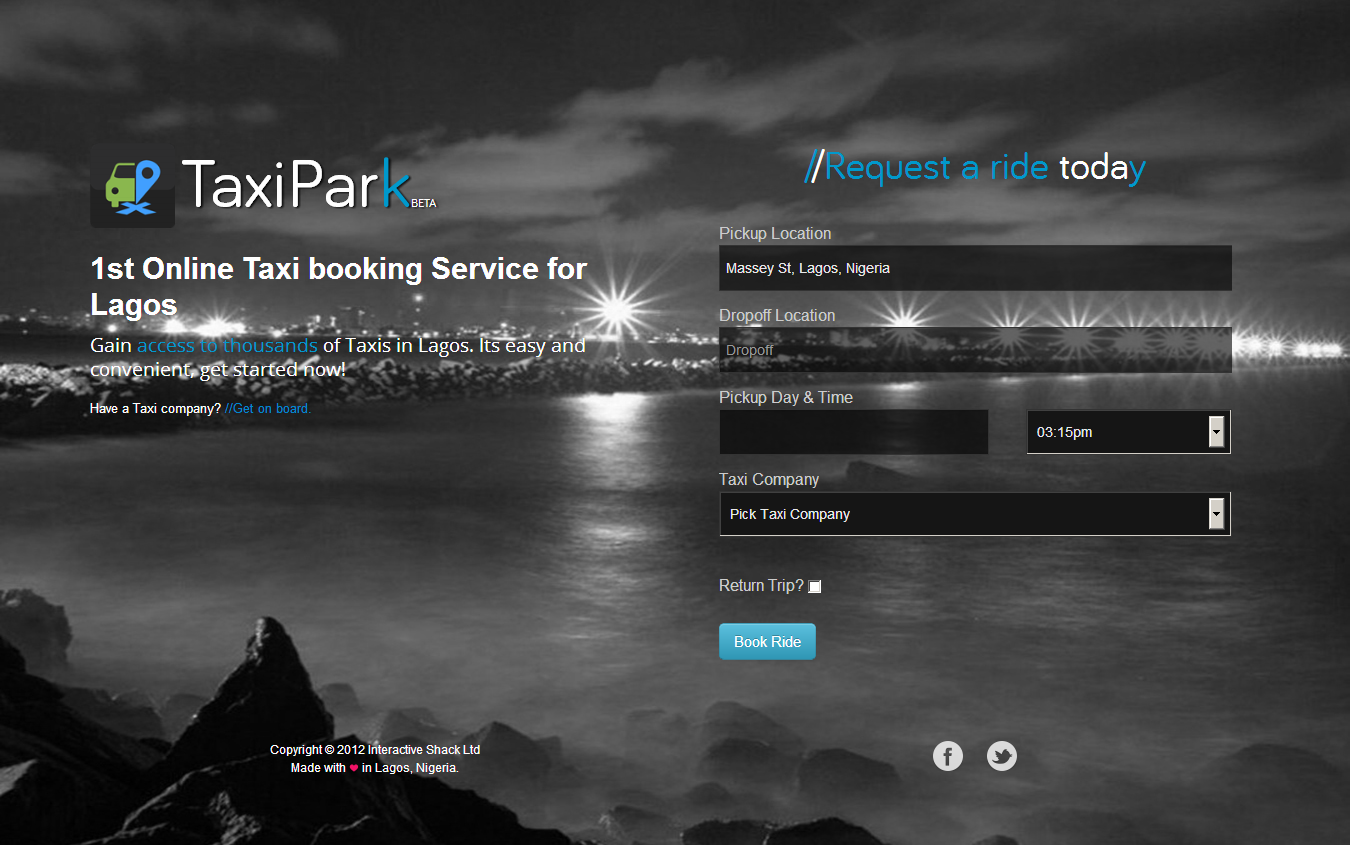 After hitting the "Book Ride" button, you're taken to a page that shows distance  and cost estimates as well as a map for directions. For example a return trip from Massey Street in Surulere to The Palms, Lekki will cost N5,594.  A trip from Co-creation, Yaba hub to the Muson Centre, Onikan costs about N1,200. The page also states that you may be charged for traffic delays. Remember we're in Lagos and traffic is its synonym.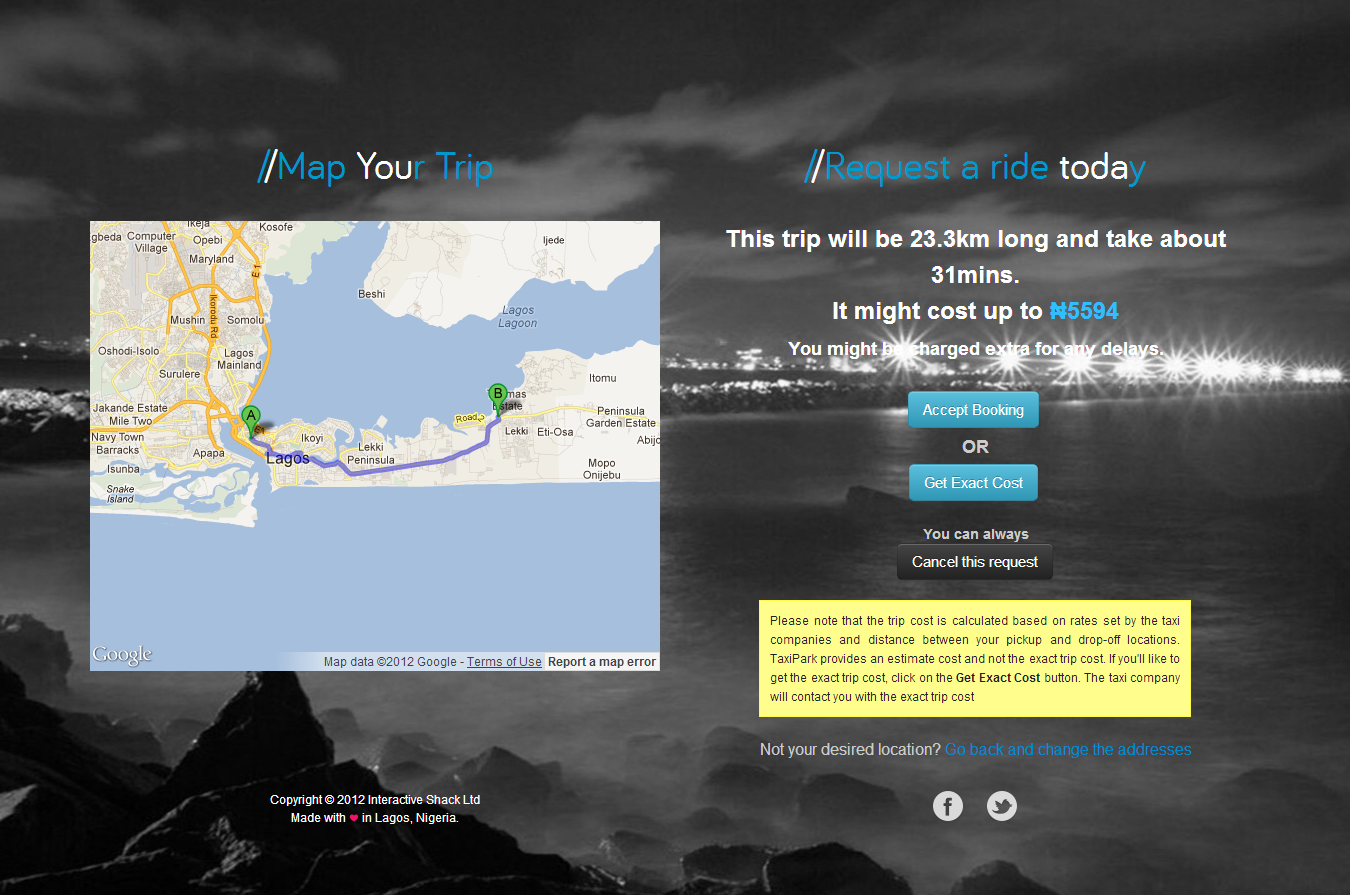 You can then accept the booking or negotiate the cost by hitting the "Get Exact Cost" button. The cab company will then call you and negotiate the fare. If you're not satisfied with the cab company's estimates, you can then cancel the request and try again.
TaxiPark's booking service is currently only available via its website and Interactive Shack says they're working towards mobile apps. If you're on a mobile phone however, the website can still find your location and scale to fit your device's screen.
How does TaxiPark make money? They sell credits to cab companies at N35 per booking and offer N4,900 per taxi per month for a cloud service that runs fleet management, taxi dispatch and web and mobile booking. Your taxi company can get on board here.
The major issue here is how long it will take a cab to reach you. For cab orders for the future, there should be no problem of arrival time but for immediate orders, the website currently doesn't state how long it will take cabs to reach.
What do you think about this service? Will you use it?