Don't Be Evil: Google Kenya Steals Business Database From Mocality Kenya[REPORT]
Mocality is one of MIH Africa's internet businesses. Mocality Kenya like its other variants across Africa, is a database of Kenyan businesses including their addresses, phone numbers and websites.
Mocality's database is built via crowdsourcing. The company pays Kenyans who contribute to the database via Kenya's mobile payment service M-PESA.

In a blog post this morning by CEO of Mocality Kenya, Stefan Magdaliski Mocality explained how Google Kenya staff had been accessing its database and calling up businesses offering them websites on Google's Getting Kenyan Businesses Online[GKBO]. At first Mocality tracked the IP of these connections and figured out a particular version of Google Chrome that hadn't been launched yet was used.
At first, they ignored it and then decided to find out if this was indeed Google making these calls. So they changed their code a little bit to serve different content to a particular IP address. Instead of the real phone numbers of businesses on Mocality's database, Mocality placed a phone number of its call centre team where calls were recorded. The code was switched on December 21st and the calls started coming in.
Douglas a Google Kenya employee stated that GKBO is working in collaboration with Mocality and that the company was helping them with GKBO. After that, he offered the person on the other end a website and then repeatedly stated that Mocality is with or under Google. They also received other calls on the 21st of December. After that they tweaked the code again on the 23rd and then tweaked again on the 10th of January. Deepthi from Google India called offering them a freee website and talking about Google's partnership with Mocality.
Google Apologises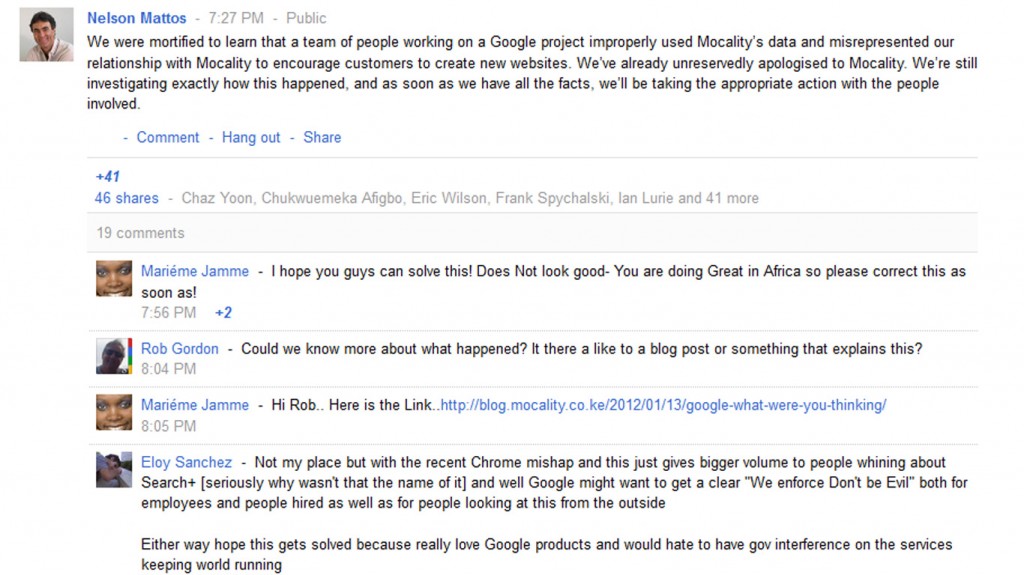 In a Google+ post by Nelson Mattos, he apologises to Mocality and states Google is mortified to learn that the team improperly used Mocality's data. Alright. Assuming I believe this guy, how does a small team at Google Kenya outsource stuff to Google India without Google America or wherever knowing?
Don't Be Evil eh? Yeah. Right